Like an App - But BETTER!
AVAILABLE EXCLUSIVELY FROM STOREY MARKETING!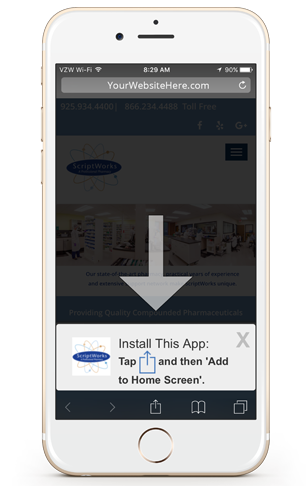 Create an Incredible Mobile Experience for your Website Visitors by adding "Mobile Bookmarks" to your Responsive Website! When your website is viewed on a smartphone or iPad, the website visitor will be prompted to add your icon to their homescreen which will give "one touch access" to your website via their iPhone/iPad/Droid! Your company logo will be featured on the icon – so it's great for branding and marketing as well as convenience!
How it Works: The first time that someone visits your website using a smartphone or tablet, a prompt will encourage the user to add a bookmark to his/her home screen, like an App. A Mobile Bookmark can initially direct users to any page on your website (Refills, for example), yet provides access to your entire website, allowing visitors to fill out secure, HIPAA-compliant mobile-friendly forms for Consultations, access your Online Store, register for an Event, submit an Rx Transfer request, access your Rewards program, or simply contact or map their way to your pharmacy!
Demo! Visit www.StoreyMarketing.com with your iPhone, iPad or Droid to demo the Mobile Bookmark today!
How Much Does It Cost? $499 for a Mobile Bookmark that works on both iOS and Android. This technology is only available if Storey Marketing designs your website, and can be added to any responsive website previously designed by Storey Marketing. We want to improve your online visibility – in a manner that is efficient and cost effective.