This is how Storey Marketing began! And our first product continues to be a star!
MAKE SURE EVERYONE KNOWS YOU ARE THE MEDICATION EXPERT!
Market your knowledge with Weekly Health Columns for newspapers, local magazines, etc., now with an ONLINE option.
WEEKLY HEALTH COLUMNS "HEALTH NEWS"
Weekly Health Columns (Health News) are available exclusively to one pharmacy or consenting group of pharmacies in a demographic area. Online use is authorized only by additional online subscription from Storey Marketing. Offer an online archive of your most recent articles online for quick access by your staff and community; Health News articles are available in an online format that can be added to your website. Storey Marketing will regularly update the online article archive, which will automatically load to your site allowing visitors to view recent health columns and previous archived articles. The content is indexed and searchable.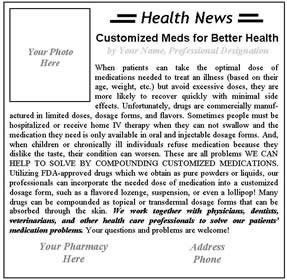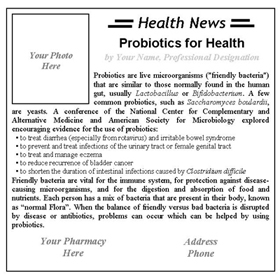 Less than $8 per week for newspaper, or $12 per week for newspaper AND archived on your website.
$399/year (56 articles), $239/6 months, or $119/3 months
$599/year for online access AND newspaper subscription.
$399/year (56 articles) for online access only.
14 articles are delivered every 3 months to respond to current health topics
Each quarter, an extra article is sent to allow you to customize your marketing.
Available exclusively to one pharmacy per demographic area (the principal circulation area of the newspaper you use)
You will receive your health columns by email as a Word document.
[your newspaper will insert your name, photo or logo, and pharmacy information each week.
You can also add space at the bottom of each health column to advertise screenings, or promote
your professional services].
Attachments