Generate repeat sales.
Your MOBILE-RESPONSIVE online store will be fully customized and branded for your business, and will automatically reconfigure to be user-friendly on a tablet or smart phone.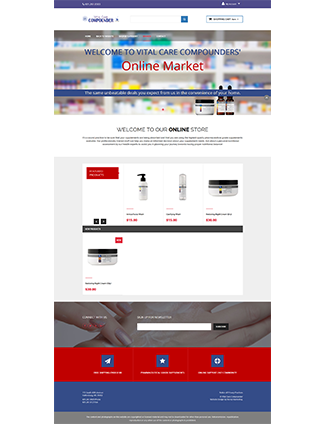 Retain sales by allowing your patients to shop 24/7 from anywhere, instead of losing $ to other online entities. Use the most current technology to sell supplements, test kits, cosmetics, skin care products, personal care items and gift certificates, etc. Each product in your store will have a unique URL so that you can link to information on your website or provide direct product links to customers or on social media. Designate your categories or brands, and products can be searched by name, category or manufacturer.
Your choice
Integrated e-commerce responsive website, where the store is integrated into the website.
Two separate websites, with the online store and main website linking to one another.
Add an online store to a new or existing website even if your website wasn't designed by Storey Marketing.
---
A separate online store starts at
$2999

which includes
Up to 4 custom slides to showcase your private label lines, top sellers, specific protocols or consultation services. Additional slides are $125 each.
Link to your main website (and a link from your store to your main website if your website was designed by Storey Marketing).
Featured products - allows you to select featured products to appear on the homepage of your store using a simple check box system.
Specials - allows you to designate specials on the homepage of your store.
Digital Products delivery: deliver free informational documents or sell digital publications.
Contact information, plus information that you provide for any of the following that you wish to include: About Us, Terms & Conditions, Notice of Privacy Policy, and Return Policy.
Shipping options are available.
Written instructions and video tutorials are provided to show you how to operate and update your store.
Options (NOT included in the base price)
Gift Card sales. Creation of Gift Card and graphics not included in base price.
Promo Codes, Coupons and Gift Cards can be accepted and applied to product or order price.
Price based discounting (such as with quantity purchases).
Complex tax structures - purchase and add a tax table,

$100

.
Purchase of SSL (

$299

is the current initial annual cost, and it must be renewed annually).
Many other functions are possible - let us know if you desire a feature that is not listed.
The base price includes a one-time import of up to #250 products from a spreadsheet that we provide with instructions for you to complete. The fee to import each additional lot of up to #250 products is $200. If you want to include Wellness Works or Rx Skin Therapy products, please contact us for more information on simplifying that process.
You can add/delete/modify products as often as you wish with the built-in content management system (CMS). Your store will be able to process credit cards online if you have a compatible gateway and third-party merchant account. The store can also process online checks and is PayPal compatible.
An email will alert you that an order has been received, and you can log onto the secure server to retrieve the order.
Ongoing store file hosting/technology maintenance fee is $29 per month.
For your online store to provide a good Return on Investment, you have to promote it!
4 Simple Steps to Grow Your Online Store
Tell all of your customers that they can now buy their supplements online. Be sure to also include braces, medical supplies, gifts, etc., depending on what is in your online store.
Promote your online store with signage in your pharmacy and bag clippers.
Each time you do a consult or recommend an OTC preparation that is in your online store, let you patient know that they can buy this 24-7 and have it in as little as 48 hours. Be sure to include promo details such as "We offer free delivery on all orders over $100."
Promote your online store via social media.